Unleashed
Black Studies centers rise as JMU funding priority
---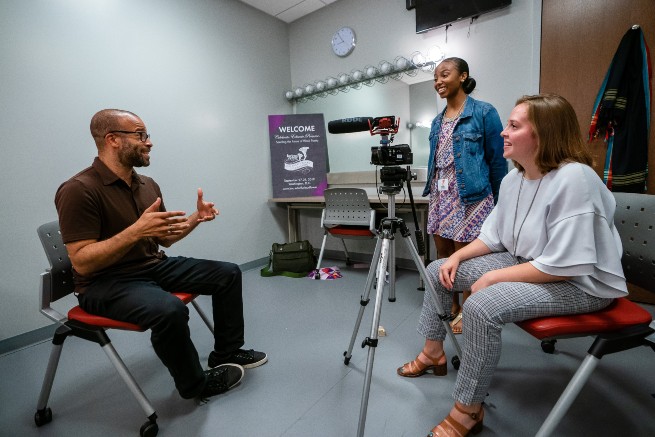 JMU students Illiana Harris ('22), standing, and Claire Hietanen ('20) interview poet/performer/librettist Douglas Kearney for their AAAD Studies class, "Black Studies and Black Spaces." Photo by Greg Gibson
---
The university's comprehensive campaign steering committee elevated both the Furious Flower Poetry Center and the African, African American and Diaspora Studies Center to priority funds for Unleashed: The Campaign for James Madison University.
The nation's first academic center for Black poetry, Furious Flower was established more than 25 years ago on the JMU campus to serve creative writers, literary and cultural scholars, and poetry lovers everywhere. Dr. Joanne Gabbin, among the university's earliest Black faculty members at the school, founded the center and remains its executive director today.
The AAAD academic minor began four decades ago at JMU, and in 2020, it became an academic center. The programming now includes signature events, graduate certification, archival collections, student and faculty research—locally, across the U.S.A. and around the world—and pedagogical resources for innovations in teaching and curricula.
Both centers are part of the College of Arts and Letters and are funding priorities under the campaign goal of Renewing Our Civil Society.