Alumni
Remembering the Good Old Days
---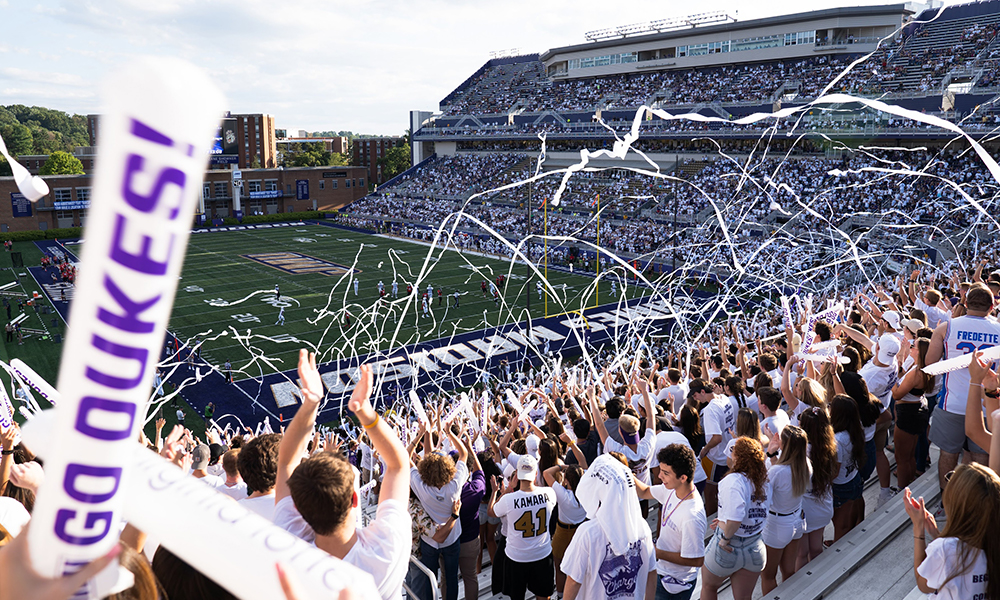 SUMMARY: JMU alumni share their favorite JMU football memories from over the years.
---
By: Brittany Bell, student writing assistant, Office of Alumni Relations
With two victorious NCAA national championships under our belt, JMU's football program has become an integral part of every Duke's JMU experience. From tailgating, the Marching Royal Dukes, thrown streamers, and first-down "J-M-U duuuuukkkkkeeeees," nothing shows our school pride quite like our home football games.
Even though we couldn't have a football season this fall, the spirit of JMU football games will always live on in the hearts of our students and alumni. Instead of thinking about the games we could have had, take a look some of our alumni's favorite football memories.
Erin Conley ('06): 2004 Play-off Game at William and Mary
"Although our teams have met in dozens of games over the years, this particular one was a once-in-a-lifetime experience. 
Making our way over to the stadium, on unfamiliar paths, in the dark, added to the suspense and excitement of the Friday night. Most of the W&M fans walking around us were wearing shirts designed just for this game- it was the most spirited I had ever seen their fans! Of course, in 2004, JMU fans knew we were good, but we were still hungry to be recognized on the national stage.  This was the first time either team had made it to the semi-final round in the playoffs. It was also the very first night game ever held at Zable Stadium- ESPN had to bring in portable lights just for the game!  With a trip to the title game on the line, the stadium was at full capacity, despite the rainy weather. The atmosphere was electric. 
Having to play all three playoff games on the road wasn't easy.  Our team played their hearts out and the score was close for much of the game. In the end, of course, they pulled it off.  Winning the game and rushing the field afterwards knowing we had a chance at our first football national title was the cherry on top of an amazing experience!"
Brandon Eickel ('08): 2004 National Championship
"The 2004 road to the National Championship… Furman, W&M, and beating the Griz in Chattanooga! Welcoming the team home with a victory parade in downtown Harrisonburg!" 
Meredith Rosenblatt ('05): Championship in Chattanooga
"Our first national championship in Chattanooga! I was a senior and went with my roomie Christine Jefferson. Storming that field was such an amazing day!"
Holly Hoover ('15): Alma Mater 
"JMU has held a special place in my heart from the first time I went to visit my sister, Heather, during her freshman year in 2008. The first time I stepped onto campus and experienced the warm hospitality of strangers holding doors open and stopping to say hi was so unique! I attended my first JMU game that fall and loved the experience of a game day with the Dukes! I began attending more football games the next few years while I was still in high school because my family became season ticketholders. Each home game would start off with the singing of the Alma Mater. I thought it was such a fun way to get ready for game time and loved singing along with the JMU Alma Mater singer with his deep voice. This soon became one of my favorite parts of the JMU football games. When I became a freshman at JMU in the fall of 2011 and went to my first football game as a student, my new friends were surprised that I knew the Alma Mater.  It became a running joke throughout college with my friends that when the Alma Mater was being sung, I would for sure sing along proudly! Whenever I come back for Homecoming or graduations it is always fun to be able to sing along again! 
There was always that special energy about being in Bridgeforth Stadium for game day! My friends and I were some of those fans that would ride out every game until the clock ran out. I loved the pre-game hype, seeing Duke Dog, the halftime performances from the MRDs, yelling J-M-U Dukes (with the hand motions of course), and the firework celebrations! Homecoming is a special time to reminisce on memories, see all of the new things on campus, and enjoy knowing that we will always be part of the Dukes of JMU!"
Kelly Pollhammer ('14): We Beat Tech
"My favorite JMU football memory is from the very beginning of my time at JMU.  It was my freshman year, Sept 11, 2010, and JMU was playing at Virginia Tech.  It was pouring rain and I was watching the game in my dorm with my roommate and friends.  Everybody in our hall had their doors open watching the game, and when it ended, our hall was exploding with celebration!  WE BEAT TECH!  Celebrating that win (and major upset!) was awesome, but it's my favorite memory because the sense of pride and excitement felt on campus for the days to follow was incredible, and an amazing way to kick off the best 4 years of my life!"
Bruce Jennings ('87): Victory Over Tech
"Being at the JMU victory over VT in 2010… a beautiful JMU purple sweatshirt in a sea of maroon (home side, 40-yeard line, 25th row). Have to give it to Hokie fans, gracious throughout game and at the end! Great Memory!"
Katie Morton ('10): Running the Field
"Getting to run onto the field with the football team at the final home game of my senior year!"
Aly McGrath ('12, '16M): Game Day 2015
"The first Game Day at JMU was 2015. I was in the final year of my doctorate with JMU as a double duke, and it was amazing to come back to campus and meet up with friends from undergrad. It was my first experience back in Harrisonburg as a visitor and not a current resident, and it was nothing short of amazing! I loved the energy of the current students and alumni throughout the entire day. My favorite memory of that day was seeing Game Day tape their show from the Quad. It was definitely an experience that made me excited to come back as an alumni. I even came back again in 2017 for the second Game Day. I am looking forward to visiting JMU again when it is safe to hold large events. Go Dukes!"
Muhammad Mehdi ('16, '18M): 2017 Quarterfinals (JMU V. Weber State)
"Coming into this game, JMU Football had won 24 straight games, including the upset against North Dakota State and the 2016 championship in Frisco. This was a cold and dark Friday night playoff game. My heart paced as the lead changed several times throughout the game. Near the end of the game, we were down eight points with around three minutes to go. After a few quick plays, our offense was at mid-field and we had taken a time-out. I remember anxiously looking up and seeing the video scoreboard roar- 'Our JMU is on the rise.' In the first snap after this time-out, Bryan Schor threw a long touchdown pass to Terrence Alls to tie the game. Shortly after, our offense had possession and drove down the field, and kicked the game-winning field goal as time expired. 
As a former Marching Royal Duke and member of the pep band, I have had many significant JMU Sports moments in my life, but I will always fondly remember this game as the Miracle at Madison."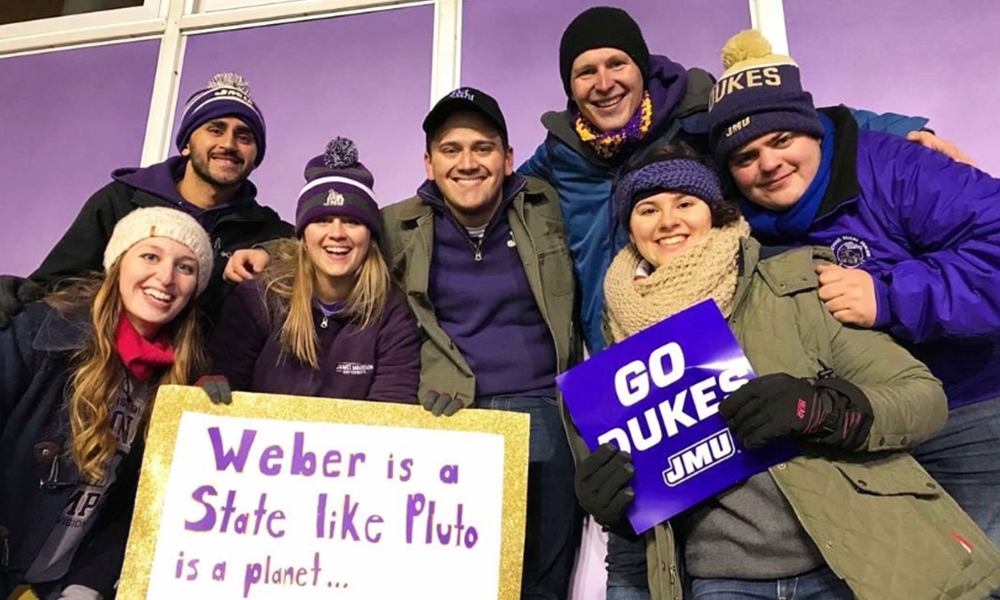 Stephanie Bucher ('14): Sideline Cheering
"Being on the sidelines cheering for out Football Dukes and getting to celebrate in the end zone after a big win!"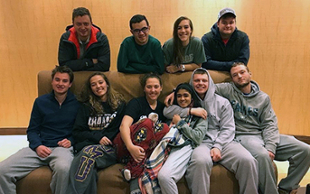 Jessi Pinello ('18): National Championship in Frisco
"Our trip to Frisco was in January 2018 which was our senior year (so the 2017 season). My family all went to or goes to JMU and my parents have had season tickets since my twin sister and I were freshman. We had gone down the year before, so Alli ('18, '20M) and I ('18, '21M) convinced our friends to make a road trip out of it since it was senior year. Our friends Emily Casey ('19), Jake McMonagle, Josh Roesch, Jon Pruden, Britton Boyce, Henry Weber, Brad Binzer, and Kai Ahmed (all '18) crowded into two sedans and began the 18-hour drive to Frisco, stopping to spend a night in Nashville. We got there Friday evening and went to the pep rally festivities and then met up with my parents (Craig Pinello '91, Kim Pinello '90), my brother (Jake Pinello, '22), and my dad's fraternity brothers from Sigma Chi. We rented a tailgate trailer for Saturday so we headed to Toyota Stadium for some refreshments before the game. While we were disappointed with the game result, it was great to be able to kind of merge the generations of Dukes. Those of us who were still in school then woke up at 3 am Sunday morning to make what ended up being a 22-hour trek back to Harrisonburg so that we could make it to our first day of the spring semester classes. It was a wild ride and one that none of us will forget any time soon!"
No matter how old or young you are; no matter when you graduated or plan to graduate, Bridgeforth Stadium will always welcome you back to make more memories. So, what's your favorite JMU football memory?