News
Alumni Chapter Spotlight: Lynchburg Dukes
---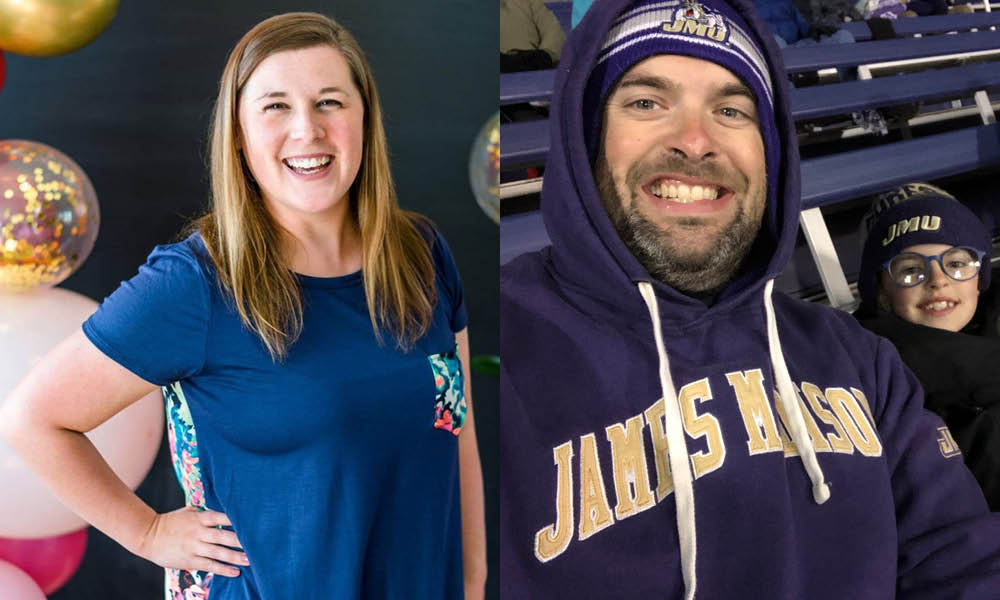 SUMMARY: Dan Ebersold ('02) and Brittany McGeoch ('10) are co-presidents of the Lynchburg Dukes, the local alumni chapter for former dukes in the Lynchburg area. The chapter seeks to connect local alumni and build a community through fun-filled events.
---
By: Brittany Bell, student writing assistant, Office of Alumni Relations
JMU's Lynchburg Alumni Chapter serves many alumni in the area with members from Bedford, Appomattox, Amherst, Campbell County, and Lynchburg itself. A newly revived group, the Lynchburg Dukes focus on bringing the local alumni together and building a community.
"I joined the chapter because I wanted to be around people who love JMU as much as I do," Brittany McGeoch ('10), co-president of the chapter, said. "I wanted to spread the love of being a Duke with other Dukes to the Lynchburg community."
McGeoch runs the chapter alongside co-president Dan Ebersold ('02). Both had gone to the JMU Alumni Association two years ago asking about joining a local chapter. When they found out that the original Lynchburg Dukes was inactive, they decided to work together as co-presidents to bring it back.
Ebersold and McGeoch, along with Anna Ebersold ( ) and Elizabeth Nicely ( ) on their leadership team, were able to fully revitalize the chapter to what it is now. Ebersold and McGeoch agree that they may be listed as the co-presidents, but it is a group effort to keep the chapter running. "I believe we all work very well together and genuinely enjoy spending time with each other," Dan said.
Together, the leadership team works side-by-side to plan, coordinate, and host events. When there's not a pandemic, the Lynchburg Dukes typically host four large events a year for members to enjoy. Their Giving Day event in February or March allows alumni to mingle and network while supporting JMU. In the spring, their Senior Send-off event invites all the alumni and JMU incoming freshmen to the local minor league baseball stadium to celebrate.
"This event is special because it allows us to celebrate those headed to our favorite place, but also helps build a connection with those students and their families with a hope that they will come back and join us as alums in the future," McGeoch said.
The other two events are a City Connect event that brings alumni old and new together to network and a fun holiday party in December to celebrate that time of year. The Lynchburg Dukes will also host several smaller events throughout the year. They will have watch parties to support JMU sporting events and even happy hours to bring everyone together.
The main focus of all of these events is to foster a community within the local alumni and connect them personally and professionally. As a chapter, they also support local non-profits and help raise money for JMU at their Giving Day event.
"We love to have a good time," Ebersold said. "We don't pressure anyone to fundraise and the only time we ask for anything is Giving Day." McGeoch continues, "we have fun, but we also look for ways to give back to our local community and look for ways to continue to support JMU from afar." 
Ebersold and McGeoch's vision was to have the Lynchburg Chapter extend the Madison experience for them and other alumni. So far, it seems to be doing just that. "I have lifelong friends because of JMU and even more because of the alumni group," Dan said.