JMU News
Architectural design students' exhibition available in person
---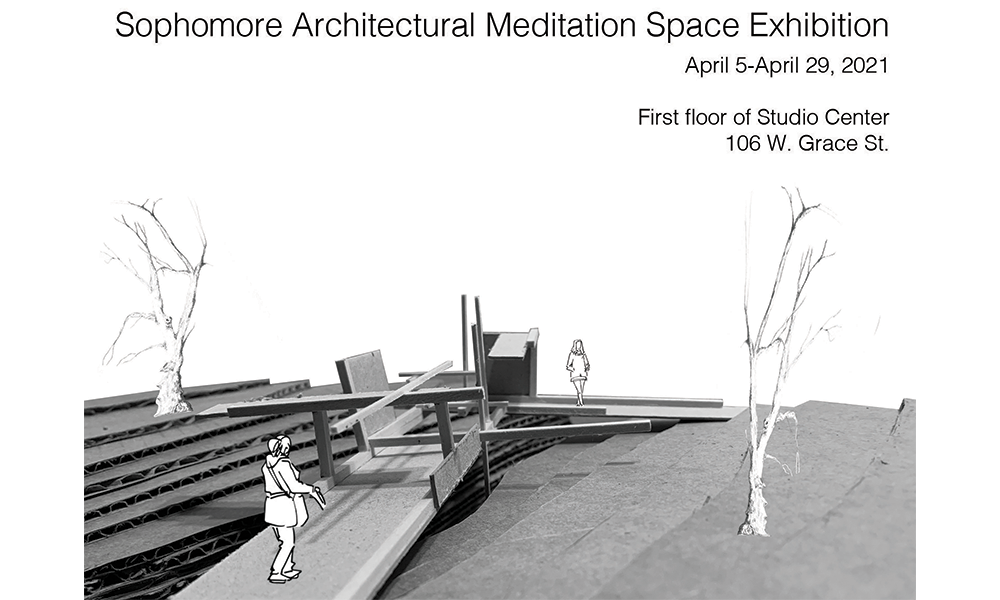 Architectural design concepts in graphite drawings and cardboard along with basswood models that represent hypothetical mediation spaces to be built in nearby Purcell Park are on display at the Studio Center in JMU's School of Art, Design and Art History until April 29. 
Due to COVID-19 regulations, visitors can view the exhibition by appointment, up to 10 people at a time. 
Titled "support.spread.arrange.grasp.join.continue," the show features the architectural design sophomore class, which sought to create sanctuaries where people can examine their lives, communities and social justice in 2021. 
Concept designs were inspired by artist Richard Serra's Verblist, a language-based drawing of words he called "actions to relate to oneself, material, place, and process." Students experimented with the ways in which a meditation space can influence people's perceptions of justice, using readings, site investigations and research to complete their work. 
Duke Hall Gallery of Fine Art, the architectural design program at JMU, and JMU's Honors Interdisciplinary Studies are sponsoring the free exhibition at the Studio Center, 106 W. Grace Street. 
Appointments to view the exhibition can be made by contacting Beth Hinderliter, director of Duke Hall Gallery of Fine Art, at hindersb@jmu.edu. 
###
Gallery Information:
Visit https://www.jmu.edu/dukehallgallery/ for parking information. Visit https://www.jmu.edu/directory/buildings/SC.shtml for information about the Studio Center. 
Duke Hall Gallery of Fine Art's mission is to present the highest level of fine art experiences and to create an active space for robust discourse of vital issues facing our society. It is a space where the local and academic community share ideas about contemporary art and our wider cultural experiences. Art breaks barriers between languages and brings us together to be inspired and knowledgeable citizens, no matter where we come from.