College of Business - Student Awards and Recipients
Every spring, the College of Business faculty and administration select and recognize our outstanding students. Please join us in celebrating the recipients of our 2021 Student Awards listed below by department by posting a congratulatory message on our College of Business Facebook and LinkedIn feeds.
Accounting
 Outstanding Undergraduates in Accounting
Taylor Victoria Bowles
Jennifer Marie Freebus
 Outstanding Graduate, M.S. in Accounting
Kylie Paige Williams
Computer Information Systems & Business Analytics
Kirsi Grace Arnesen
Samantha Richele Heller
Kirsi Grace Arnesen
Trevor Alek Cross
Eli Bengjamin Raich
Pete Gene Weidner
Economics
From competitive archery to repairing yachts, James Madison University's two top economics award winners for spring 2021 have varied backgrounds, but they're headed the same place this summer.
Abigail Eget and Evin Tunador will both be doing internships with Fannie Mae, the enterprise chartered by Congress to provide a reliable source of affordable mortgage financing. Both students are completing the full economics major along with substantial work outside of economics.
After completing their additional coursework, Eget and Tunador plan to graduate in May 2022.
 Executive Advisory Board Outstanding Senior in Economics
Abigail Ann Eget
Abigail Eget, chosen as the Executive Advisory Board Outstanding Senior in Economics, was a competitive archer on the Atlee High School team in Richmond, which won first place in state competition. She has a double major in mathematics and has had multiple scholarly presentations to her credit already.
Eget said her favorite memory at JMU is walking into the College of Business for the first time. "Immediately, I saw all of the business students working together on projects and studying – and I felt at home. The JMU business school is a great community."
 Faculty Award for Academic Excellence in Economics
Evin Scott Tunador
Evin Tunador, winner of the Faculty Award for Academic Excellence in Economics, has experiences on his resume ranging from repairing masts on yachts in Maine to serving as a zipline attendant in Leesburg, Va. He is working toward a double major in mathematics, and also won the psychology department's award for outstanding achievement in statistics and research.
Tunador is considering a dramatic exit close to graduation time, recalling that during his first year at JMU a graduating senior stood up on a table in Carrier Library late at night during finals week and gave an impassioned speech. "He talked about how much he loved JMU and was going to miss it, and he ended up getting a standing ovation," Tunador said. While doubting his ability to match that performance, Tunador said, "I might consider following in his footsteps next spring."
Finance & Business Law
Stephanie Elizabeth Post
Along with her B.B.A. in finance, Stephanie Post will also earn a B.S. in health services administration. Stephanie is the vice president of the Student Advisory Council for the College of Business, and serves the community through many volunteer activities. During the COVID-19 pandemic, she has been serving as a virtual volunteer for Meals on Wheels since March 2020. After graduation, Stephanie plans to pursue her master's in health administration at Cornell University. She plans to go into finance or operations in a hospital setting in the near future.
Kelly Lynn Johnson
Kelly Johnson is a quantitative finance major with a concentration in risk management, a second major in mathematics, a minor in economics, and honors with an emphasis in global studies. During her time at JMU, Kelly has been actively involved with student organizations. She started the JMU Women-in-Business Club and has served as the club president for the past two years. She also kept herself busy by working as research assistant for finance faculty, an assistant in the capital market lab and as a student athlete tutor. She interned at Deutsche Bank (DB) in the summer of 2020, and after graduation, she will join DB as a full-time corporate finance analyst in New York City.
Michael Nicholas Forbes
Michael Forbes is a finance major with a minor in business analytics. He was inducted to Beta Gamma Sigma International Honor Society in Spring 2019 and joined the study abroad program at the University of Antwerp in Fall 2019. While at JMU, Michael was involved in intramural football and basketball and was active in the Ski and Snowboard Club. Michael will start his finance career as a real estate analyst at Urban Edge Properties, New York.
Jackson Alexander Guthrie
Jackson Guthrie is a double major in quantitative finance and mathematics with a concentration in financial risk management. He has been involved with Madison Investment Fund as a portfolio manager for the energy and utilities sector since his sophomore year. At the college of Business, he also worked as a research assistant and served on the Student Advisory Council. Upon graduation, Jackson will join RSM as an associate in their valuation services practice, working on the complex financial instruments team.
Michael Spencer Sevilla
Michael Sevila will graduate from JMU with a double major in quantitative finance and mathematics. He has served on the Student Advisory Council during his junior and senior year, and is the chief investment officer for the Madison Investment Fund. Michael interned at Capital Automotive Real Estate Services (CARS) as a real estate financial analyst Intern in the summer of 2020, and he will be joining Freddie Mac's capital markets analyst program in Tysons, Virginia.
International Business
 Outstanding Senior in International Business
Sarah Elizabeth Gotthold
The Outstanding Senior in International Business award is given to a student who has achieved an exemplary academic record, demonstrated leadership abilities and earned the respect of the faculty and other students in the college.
Stephanie Claire Thompson
The Degesch America award is given to a student that has shown leadership skills in campus activities, earned the respect of the faculty and demonstrated significant scholarly achievement and dedication to the study of international business.
Management
 Outstanding Student in Management Award
Emily Kay Jacob
The faculty in the management department select one recipient each year for this award, and it is given to a senior management student with an outstanding academic record, as demonstrated by a high cumulative GPA. In addition, the recipient should exemplify the knowledge, skills and abilities associated with a successful career in management, including: knowledge and understanding of key management concepts; strong critical thinking skills and organizational skills; strong interpersonal skills; the ability to formulate strategy and plan effectively; the ability to lead, motivate and supervise effectively; and a willingness to adapt in the face of change. The selected student should provide evidence of these skills and abilities in the classroom and through involvement in extracurricular activities.
 Management Faculty Awards for Excellence
Tyler Armand Caron
Charles Ethan Flick
Elizabeth Marie Hunter
Kyle Bailey Workman
This award is traditionally given to a small number of senior management students who are strong academic performers and whose engagement in the college, department and community activities has helped them to develop the attributes of a successful future manager. Recipients of this award have demonstrated commitment to a high level of involvement in both academics and extracurricular activities and consistently strive for excellence in all their endeavors. They seek out new experiences, are open to constructive feedback and have a desire to learn that results in continuous improvement of their skills and abilities.
Marketing
Kyle Alexander Maercklein
Kyle Maercklein is a marketing major with a minor in business analytics. So far at JMU, he has a seven-semester run on the President's list! He is a member of Beta Gamma Sigma, the National Society of Collegiate Scholars and the National Society of Leadership and Success, and has completed sales and marketing internships with JK Moving Services and State Farm Insurance. In Harrisonburg, he has worked with Gemeinschaft Home, a non-profit organization that helps mentor recently incarcerated individuals by providing shelter, food, counseling and more.
Rebecca Elizabeth Ventura
Rebecca Ventura is a marketing major with a minor in CIS. A member of Beta Gamma Sigma, she has also attended the Antwerp Study Abroad program. Rebecca has served as the VP of membership for the student chapter of the American Marketing Association and as president of her pledge class when joining the Alpha Kappa Psi business fraternity. She has also done excellent work in the Research Experience for Undergraduates program. Along with her outstanding academic achievements, Becca has accumulated work experience with KPMG, Freddie Mac and Dick's Sporting Goods.
Jenna Rose Jansen
Jenna Jansen is a double major in marketing and CIS. Her service to the college is exemplary, as she is president of both the Student Advisory Council and the Delta Mu Sigma digital marketing honor society. Jenna has a strong interest in academic research and participated in the COB's Undergraduate Research program, which culminated in the presentation of a year-long study at the Virginia Conference on Academic Research. She was also one of 70 students selected nationwide to participate in the Marketing EDGE Collegiate Summit. Jenna is an accomplished tennis player and has served as community service chair for JMU Club Tennis.
presented by Workshop Digital
Laura Elizabeth Bowman
As one of our most outstanding marketing students, Laura Bowman has been further developing and applying her digital marketing skills in the pursuit of her minor in sport communication. She is also a member of Beta Gamma Sigma, and as a sophomore served as VP of marketing for the Pi Sigma Epsilon business fraternity. Working with the athletics communications and broadcasting departments, Laura has completed two semester-long practicums, one of which found her providing color commentary for JMU softball games! These experiences will certainly pave the way for her to realize her dream job, which is to work in a digital marketing position for a Major League Baseball team.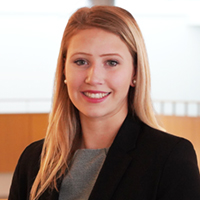 Layne Cameron Balderson
When you first meet Layne Balderson, you immediately know that she is exceptional. Layne is engaging, confident and determined to seek out new opportunities and achievements. As a sophomore, she placed 2nd overall in the University of Toledo International Sales Competition before completing her first sales class or any core marketing classes. As a junior, she won the JMU sales competition and has participated in and placed highly in other JMU and intercollegiate sales competitions. Layne has been actively recruited by national companies and has completed four paid internships in sales while at JMU, and placed 5th nationwide in Crown Equipment's internship program. Layne is a member of Beta Gamma Sigma, president of the Sales Cub, was elected to a leadership role in Epsilon Nu Tau, and is an active member in AMA. Layne has selflessly given her time to coach and mentor other JMU students in sales. Congratulations Layne for your remarkable achievement here at JMU and for being selected the Most Outstanding Female in Sales.
Harry Sean O'Kelly
Harry O'Kelly is one of our international students and a native of Brisbane, Australia. His personal story is remarkable and it is one of grit, determination, hard-work and the tenacity to overcome great challenges. As a high school student in Brisbane, Harry's dream was to attend a University in the United States and play college football, even though he did not have the opportunity to play American football in Australia. Against the odds and during his freshman year at JMU, he was selected to the freshman All-America team as a punter and he earned a scholarship to play football at JMU. Harry has demonstrated these same exceptional personal traits to excel in academics as well, and has earned a concentration in professional sales. Congratulations Harry for your remarkable achievement here at JMU and for being selected the Most Outstanding Male in Sales.
Hart School of Hospitality, Sport and Recreation Management
 Outstanding Senior in Hospitality Management
Tyler David Wardinski
Tyler Wardinski's exposure to the hospitality industry began at four years old when his dad took him along on a business trip to the Dominican Republic. That began his love of travel and his fascination with hotels, particularly resorts. Since that time, Tyler has traveled extensively throughout Europe, Mexico and the Caribbean, including a semester abroad in Florence, Italy, as part of the JMU hospitality curriculum.
In addition to working at Aramark on campus at JMU, Tyler obtained an internship with Marriott International through the Hart School Career Fair and spent a fantastic summer at the W Hotel in Washington, DC. During COVID-19, he has been working in a part-time revenue management role at Playa Hotels & Resorts, where he has been experiencing the corporate side of the hotel and resort management industry as occupancies steadily return. Tyler will be joining Marriott on a full-time basis this July as a participant in their Voyager management trainee program.
While in the Hart School, Tyler was active in the HSMAI program and, as an upperclassman, achieved recognition on the Dean's list each semester. Tyler plans to attend Cornell University's SC Johnson School of Business, where he plans to participate in a master's in hospitality management in Fall 2023, after getting a couple of years of practical work experience in the hotel industry.
 Outstanding Senior in Sport and Recreation Management
Breighan Brooke Szajnecki
Throughout Breighan Szajnecki's career at JMU, she has been a strong and confident leader in both the classroom and in the community. Breighan is a highly engaged honors student and has been named to the Dean's list every semester.
However, Breighan's accomplishments do not end in the classroom. She was chosen for the Hart School's highly competitive experiential learning trip to the 2019 NCAA Final Four in Minneapolis, and was selected as president of Women in Sport and Recreation Management (WSRM) during the 2020-2021 academic year.
During this past summer, WSRM organized the inaugural We Hart Racial Equality Virtual 5K in response to the racial injustice occurring in the United States. Thanks in part to Breighan's leadership, this event attracted 474 participants from all 50 states and Washington D.C. WSRM raised nearly $30,000 toward creating an endowed scholarship for underrepresented students studying sport and recreation management at JMU. Through this virtual 5K, WSRM also won a Dolley Leadership Award, which acknowledges a virtual program or event on campus that has made a positive impact on JMU or the Harrisonburg communities. 
Upon graduation, Breighan will attend Ohio University's business/sports administration dual degree program. 
College of Business Awards
Elizabeth Hunter Poerksen
Kirsi Grace Arnesen
 Zane Showker Entrepreneurship Award
Ofek Barash
Each year, the Gilliam Center for Entrepreneurship (GCFE) gives the Zane Showker Entrepreneurship Award to a high-performing student who displays entrepreneurial spirit and thinking and demonstrates the potential to be a successful entrepreneur.
Ofek Barash is a management major with a business analysis and consulting concentration. She has been a proud member of entrepreneurship fraternity Epsilon Nu Tau, and served as VP of operations and external professional chair. During her time at JMU, Ofek has worked to develop a restaurant-based food business called Shmutz, an app that allows users to navigate restaurant menus based on their allergies and dietary requirements. In addition to participating in the year-long Incubator Program at the GCFE, she and her Shmutz team will be taking part in the 2021 Summer Venture Accelerator. They are excited to see what the future holds for the business!
MBA Programs
Mike Joseph Lingenfield
Mike Lingenfield is a financial planning and analysis manager for the American Woodmark Corporation. He has just completed the 21-month accelerated JMU MBA Program with a concentration in innovation. Originally from Pittsburgh, Mike now lives in Winchester with his wife Jess and chocolate lab Molly.
Honors Thesis Recognition
 Computer Information Systems & Business Analytics
Kirsi Grace Arneson
"Developing a User-Friendly Library Website"
Advisor: Dr. Jeremy Ezell
---
Annie Susan Lorenzo
"The Evolution of Technology: Past, Present, & Future"
Advisor: Mr. Carey Cole
Adriana Cristina Bolivar Mendoza
"Battling Youth Unemployment in France: Can Macron Put Young People to Work?"
Advisor: Dr. Robert Horn
Alexander Patte Bohnslav
Henry Drayer Haas
Ryan Alexander Haynes
Nathan Hite Lawhead
Team Project: "A Case Study on F&M Bank's Commitment to Performance, Community, and Culture"
Advisor: Dr. Carl Larsson
---
Danielle Yvonne Bragale
"A case study on net short debt activism and a manufactured credit default"
Advisor: Dr. Carl Larsson
---
Jacob Samuel Elson
"Unprecedented Times: Comparing the economic impact of the 2008 Financial crisis and the COVID-19 pandemic to the health services"
Advisor: Dr. Jaideep Chowdhury
---
Kelly Lynn Johnson
"Environmental, Social and Governance (ESG) ratings relationship with Idiosyncratic and Systematic Volatility"
Advisor: Dr. Jason Fink
---
Lisa Amy Ryan
"An Analysis on the Impact of the Great Recession on Rural and Urban Areas in the United States"
Advisor: Dr. Adam Usman
---
Benjamin Moffett Uehlinger
"COVID-19: A Black Swan?"
Advisor: Dr. Pamela Drake
Alyssa Danielle Hillenberg
"College Student Comprehension and Perceived Comprehension of Contracts"
Advisor: Dr. Eugene McCarthy
---
Elizabeth Marie Hunter
"COVID-19 Resources for the Center of Global Engagement: Helping organizations respond to a pandemic"
Advisor: Dr. Fariss-Terry Mousa
---
Olivia Grace Klimko
"The implications of a global pandemic on work-life balance: Working from home and mental health as experienced by working adults in 2020"
Advisor: Dr. David Peterson
---
Luke Henry Leopold
"Analysis of Practical, Political, and Personal Barriers for Farmers in the Shenandoah Valley in Transitioning to Regenerative Agriculture"
Advisor: Dr. Cindy Klevickis
---
Madison Rose Probst
"Leveraging Geographic Information Systems (GIS) in Supply Chains"
Advisor: Dr. Angela Heavey
Jenna Rose Jansen
"Honor Societies' Constitution and Bylaws: The Track to ACHS Accreditation"
Advisor: Dr. Janna Parker
---
Nicole Marilou Wright
"The Boutique Fitness Boom is Not Just a Fad: Business Opportunities in Harrisonburg"
Advisor: Dr. Gizem Atav