Honors students do amazing things.
Read their stories here.
Deaquan Nichols ('24)-Biophysical Chemistry
Deaquan, a biophysical chemistry major from Roanoke, VA originally committed to Princeton as a junior in high school. Deaquan never gave serious consideration to JMU until he participated in the SHI (Summer Honors Institute). However, "every day on campus, I felt like I belonged and as a minority student that is hard to find," he recalls. Through this weeklong program where he attended classes and met Honors faculty members, the SHI cemented Deaquan's desire to attend JMU.
Read Deaquan's Story.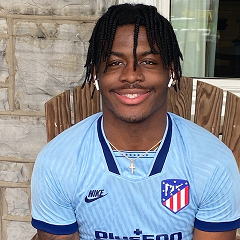 Corinne Martin ('23) - Independent Scholars and English
Corinne Martin, a sophomore English and Independent Scholars double major says "I grew up loving to read, loving to write. I've always had a deep appreciation for storytelling and its impact on how we see the world." Her love for storytelling continues to have a major impact on her life and perception of the world. As she creates her Independent Scholars major−Native American History, Culture, and Narratives−she aims to give ownership back to Native stories. 
Read Corinne's Story
Steven Davic ('22) - Anthropology, Psychology, Intelligence Analysis
"Learning everyday." Steven Davic is a former Marine Corps sargeant whose research program focuses on developing techniques and tools to help Marines better manage stress. He is majoring in Anthropology, Psychology, and Intelligence Analysis. He is a recipient of the Honors Hinshaw-Warren Hillcrest Scholarship and a finalist for the prestigious Truman Scholarship.
Kearney Quillen ('22) - Sociology, Independent Scholars
"There are so many things that I want to learn." Kearney Quillen is double majoring in Sociology and Independent Scholars, majors that allow her to explore a range of disciplinary approaches and topical areas. She is interested in how small communities and movements affect mainstream culture and eventually result in big culture changes. Kearney studied at Oxford University in spring 2020.
Makeda Fikremariam ('21) - International Affairs
Makeda Fikremariam is a senior International Affairs major with minors in Philosophy and Honors. Her Honors thesis, which she finished in December 2020, is a case study analysis of Ethiopia as a potential rising power in East Africa. 
Born in Addis Ababa, Ethiopia, Makeda's family moved to Northern Virginia when she was young.
Kristin Connors ('20) - Independent Scholars
Kristen Connors is from Plymouth, Massachusetts, site of the first Mayflower Pilgrim colony. She went to a small Charter school with a graduating class of 41. "I live in a beautiful town overflowing with a proud history," she says, "and I loved getting involved with the town, whether it be serving with Meals on Wheels or interning for the district Senator." Going to a university with over 20,000 students represented a big change.
Elizabeth Brannon ('17) - International Affairs
"At JMU I'm an International Affairs major. I love traveling and meeting people who think about the world in different ways. Initially I had this idea that if I left the country I'd be a deeper person politically and culturally. And I suppose that's true. But it turns out there's so much abstract and theoretical knowledge that can be mastered too. I had no idea, but there's a significant amount of math and statistics behind it too."
Mary Margaret Hawkins ('18) - Spanish & Foreign Language Education
"Because of my interest in education and my background in teaching Spanish, this practicum was absolutely perfect for me. I got to speak Spanish the whole week. I had never been in an immersion experience before. When I got back, my JMU Spanish professor asked me if I'd been somewhere because she could tell that my Spanish had really improved."
Matthew Gurniak ('16) - Theatre & Chemistry
Honors student Matthew Gurniak came to JMU with a passion for chemistry and theater. "I knew I wanted to double major, and I liked the flexibility I would have at JMU. And I was attracted to Madison's program because it was competitive and audition-based," he says.
When it came time to choose a subject for his Honors thesis, Matthew Gurniak combined his passion for chemistry and theater and created "Bonded: The Musical."
Maria Camila Restrepo Chavez ('17) - Psychology
Maria Camila says that she "just had that feeling" that she belonged at JMU. It was a beacon for access and opportunity. "I pictured myself as a college student here. Everyone was friendly, smiling, and happy. And it wasn't too far from home. Harrisonburg is so completely different from Ashburn. I found out that people exist at JMU that are like me." Harrisonburg, she says, is a very diverse community, one where she can easily pick up ingredients that her grandmother can cook with on university breaks.