Finance and Business Law Faculty and Staff
Focused on creating an integrated instructional approach, we are here to raise your expectations and aspirations. We will both challenge and support you throughout your educational experience and provide opportunities to network and engage with alumni and employers frequently. You'll gain a comprehensive educational, cultural and social experience from us. 
As professors, we are versatile and enthusiastic, bringing a variety of academic credentials and unique combinations of disciplines and experience in government and industry into the classroom. Most of us hold doctoral degrees in the field and are engaged in both consulting activities and research which has appeared in nationally recognized publications.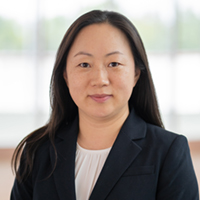 Dr. Hui He Sono
Academic Unit Head & Professor, Finance; Professor, International Business; J. Gray Ferguson Eminent Professor