Traveling to and from JMU
Shenandoah Airport offers flights to Chicago, D.C.
Shenandoah Valley Regional Airport welcomed United Airlines, and now offers regular flights to Washington Dulles and Chicago O'Hare International Airports. The flights will run once a day to O'Hare, twice a day to Dulles on weekdays, and once a day on weekends. Learn more.
Daily Shuttle to Washington, DC
Launching December 1, 2017, a new intercity bus service called the Virginia Breeze will run from Blacksburg, VA to Washington DC's Union Station with stops in Lexington, Harrisonburg (JMU), Front Royal, and Dulles Airport. Learn more.
From out of state without a car? It's easy to get home!
JMU operates a shuttle service to and from the Charlottesville airport, Amtrak station and Greyhound bus station for JMU students prior to and returning from Thanksgiving, Winter, and Spring breaks. Tickets are $35 and reservations are required. Learn more.
Distance from...
Washington, DC 130 miles (~2 hrs)
New York City 350 miles (~5.5 hrs)
Nearest airport (SHD) 15 miles (~20 mins)
Nearest train (Amtrak) 27 miles (30 mins)
Car rental (Zipcar) - on campus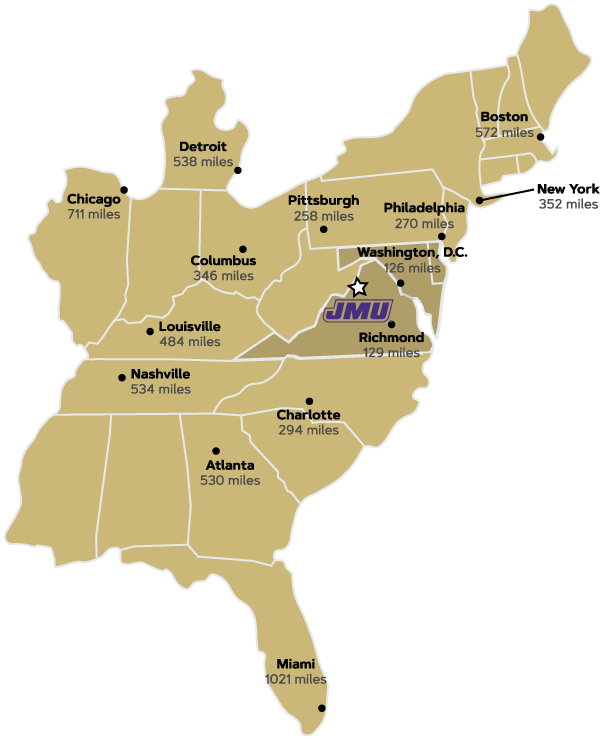 Visitor Parking on Campus
Admissions visitors who have a scheduled visit should follow parking directions and information provided in their visit confirmation email, as parking locations can vary from day to day. Visitors may sign up for an Admissions visit or may obtain a parking pass at the Madison Hall welcome desk at 100 E. Grace St. Handicap accessible parking is available in front of Madison Hall.
Visitors to campus for any other reason may obtain a pass from Parking Services in the Champions Drive Parking Deck (280 Champions Dr.).