The department welcomes all students to the study of history. The program blends core requirements with great choice, permitting students to pursue particular interests while developing a broad understanding of the historic past.  History students gain historical knowledge and understanding of many societies and cultures; improve their research, writing and digital skills; become independent, creative, and self-directed learners; and work with a superior and dedicated faculty. It's a strong preparation for any path in life.
The requirements for a major in history consist of introductory, mid- and upper-level courses. All courses introduce students to the nature of history and survey the globe in a historical context. In addition to involving reading, writing and critical thinking, these courses develop students' elementary computer skills in identifying and interpreting research sources and presenting research results. The 100- and 200-level courses are world or regional surveys, covering extensive periods of time, while the 300- and 400-level courses focus on specific nations, time periods or themes. The upper-level courses also require more extensive analysis of sources, texts and interpretations. Courses at the 400 level are capstones where students are expected to show an advanced ability to meet all department objectives. Majors in history are strongly encouraged to continue study in foreign languages beyond the minimum university requirement and, when appropriate, to integrate their foreign language studies into their history classes.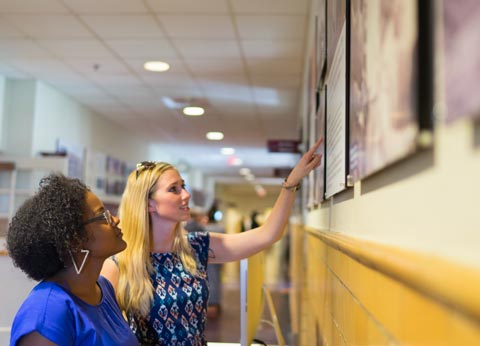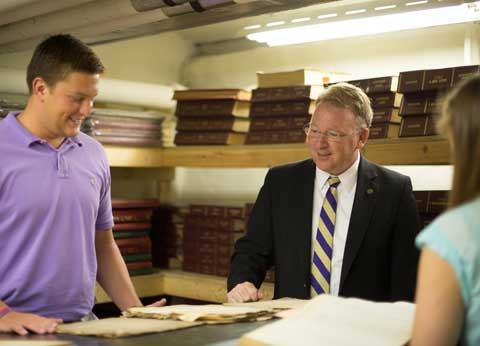 Core Courses
The major in history requires three core courses. Two of these courses are introductory: HIST 101: World History to 1500 and HIST 102: World History Since 1500. The third required course is HIST 395: History Seminar. This seminar on research methods teaches students the most sophisticated computer applications for research and writing.
Electives
In addition to the core requirements, majors must take eight elective courses: two on the 200 level and six on the 300 and 400 levels. At least three of the six upper division courses must be taken at the 400 level. For students writing a senior honors thesis, only three hours of HIST 499: Honors Thesis, may be counted among the three 400-level courses required for the major. Majors must also complete one course at the upper division level in each of the following fields: U.S. history, European history and World history. 
Credit by Exam
Students may receive credit by exam for U.S. History (HIST 225). Examinations are offered the first week of every fall semester, and the first week of every spring semester.  Contact  Dr. Rebecca Brannon for further information.
Students may receive credit by exam for World History to 1500 (HIST101) and/or World History since 1500 (HIST102). Examinations for both of these courses are offered within the first week of the fall semester and the first week of the spring semester. Contact Dr. Alison Sandman  for further information.
Public History Concentration
Historians today practice their discipline in a variety of careers as well as in more traditional academic settings. Those historians who work in museums, archives, government agencies, libraries, historic preservation organizations, businesses, contract history firms, cultural resource management firms, and historic sites are known as public historians because they use their skills as historians to serve a public audience.  The concentration in Public History trains students in the broad range of skills and issues associated with public history while providing them with a solid general background in history.